Young Melbourne artist Lauren Mavromati-Bourke recently participated in the Ahead of the Curve Digital Artwork Commission.
In her works, Lauren showcases her Cypriot ancestry through a short film showcasing her own collection of knitwear that she says is reminiscent of the women who came before her.
Talk with The Greek HeraldLauren details her journey to design and how she came up with the idea for her new collection.
Tell us about your journey to design.
I always wanted to be in design but I wasn't sure where I belonged. About two years ago, I was exploring my own personal and cultural experiences, including researching the intersections of transgenerational trauma, gendered trauma, and the ongoing effects of colonization. As I spent more time learning about my Cypriot culture and identities, I found design to be a way to explore who I was, as well as a way to connect with my community. I have continued to develop these themes by researching the literature and engaging in conversations and storytelling with BIPOC (Black, Indigenous and of Color), Queer and Gender Diverse communities.
I explored different mediums and eventually settled on knitting, reflecting how textile practices have been passed down by women across generations as a form of communication and expression. By connecting to these cultural textile practices through my knits, I was able to show how transgenerational trauma can be represented by transgenerational cultural practice, as well as the therapeutic benefits of textile craftsmanship.
Combining knitting with queer, heterogeneous and cultural looks, I started designing clothes for my communities.
We have seen your work with the 'Ahead of the Curve Digital Artwork Commission'. How did you get involved in this?
My girlfriend sent me the commission saying it would suit me and we applied! I always wanted to do a short film but I wanted support to do it because it would be my first time, so it seemed like the perfect opportunity. The film features my collection of knitwear for graduates and depicts a queer sanctuary in the form of an imaginary island sheltered from cis and heteronormative colonial gaze. Although these textile practices were born out of transgenerational patterns of trauma, the knits are shown as pieces to wear with joy, designed for queer communities to wear as they move, dance and stretch.
Many things inspired the film. This is a continuation of my graduate collection titled "Entanglements Between Bodies & Borders", which was inspired by the resistance of women and gender diverse communities after the Turkish invasion of Cyprus in 1974 and its ongoing impacts on marginalized communities. I had read and heard a lot about how collective experiences of invasion were primarily understood from a patriarchal perspective, with the stories of marginalized communities often ignored or hidden from mainstream narratives. By focusing on the textile practices used by women to express these stories, I was able to instead explore how knitwear and other textile handicrafts can be used for therapeutic purposes and to connect across generations.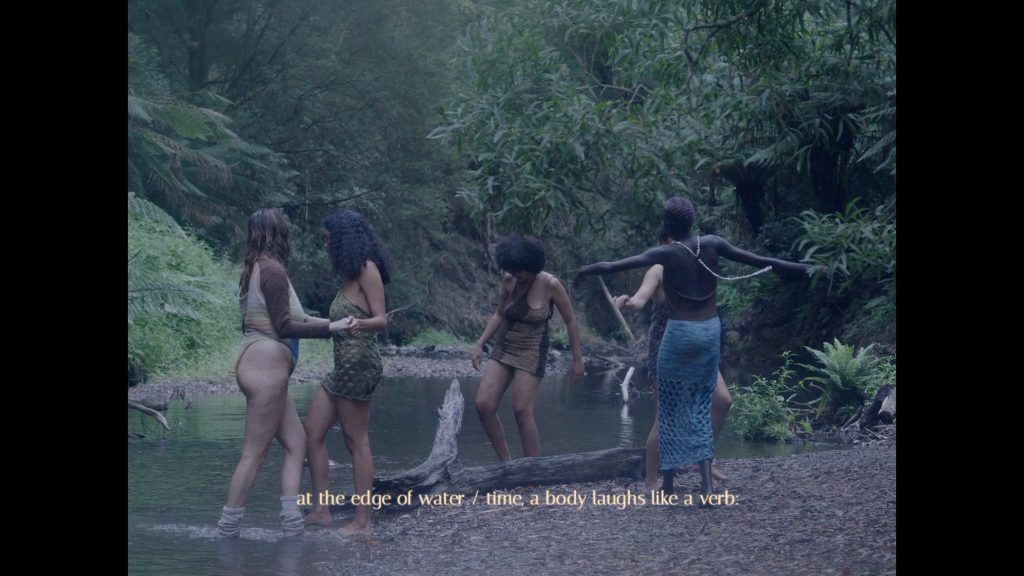 How do you think your Cypriot heritage influences your work?
My Cypriot heritage greatly influences my work. My yiayia has been a huge part of my life and her encouragement and support meant that I never felt limited to just exploring Cypriot culture without also exploring other parts of my identity.
As I mentioned before, I started this project by exploring the experiences of different communities after the invasion of Cyprus in 1974 and the lasting transgenerational impacts. I'm really interested in how culture has been passed down through generations of matriarchs and it's been a formative journey to connect with textile practices, like so many others in my culture have done before me, to through knitting.
What is the next step for you as a designer?
Work on my brand! I just released my first collection of knit tops a few weeks ago, and I'm also creating custom clothing as I start working on the second collection. I plan to release this next collection at the end of the year, and will be experimenting with new designs with more masculine silhouettes. Besides designing knitted clothes, I also like to create soft sculptures and would like to explore this further in the future.
Eventually, I also hope to one day open a boutique that stocks up-and-coming designers, as well as being a hub for community events and local art.