Chargeurs closes a successful 21 financial year, with the performance of core activities (excluding CHS) driven by the record commercial performance of the Protective Films division, the continued development of museology activities, as well as a gradual recovery of other historical activities. The outlook for 2022, although still subject to the lingering effects of the pandemic, seems well oriented, with strong volumes expected in CPF and a more marked recovery in textile activities.
Chargeurs published strong results for FY21, slightly exceeding our sales expectations across all divisions, reaching nearly €737m in consolidated revenue against our estimate of €707m. Bearing in mind that the result for 2020 was exceptional due to the substantial contribution of the masks and protective equipment business, the performance for FY21 was commendable, with a decline of 10.4% compared to 2020. but an increase of +17.6% compared to 2019, which is more comparable. level.
The descriptive P&L provided by the company, shown in the table below, conveniently displays the various levers driving FY21 earnings performance.
Source: Company Reports
Strong cash flow generation, driven mainly by the operating results of the CPF and CHS divisions, as well as effective management of working capital, led to an improvement in the group's net debt, reaching €117 million at the end of 2021, compared to €127 million at the end of 2021. previous year.
Given the strength of its results, Chargeurs has proposed a dividend of €1.24, of which €0.48 has already been paid as an interim dividend in October 2021, leaving a balance of €0.76 to pay in 2022.
Faced with record results for FY20 which were mainly supported by the contribution of more than 300 million euros from the sale of masks and other protective equipment, the performance in 2021 was conditional on a recovery of historical activities since CHS revenues gradually declined as the pandemic was brought under control through global immunization efforts. Given this difficult basis for comparison, Chargeurs managed to deliver solid results, marked by a record year for its Protective Films division.
Breakdown of revenue by division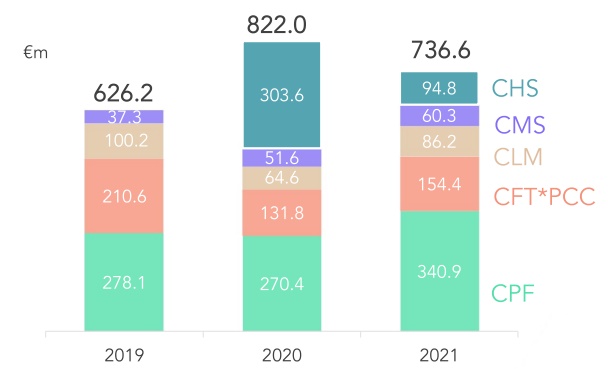 Source: Company Reports
Sales excluding Healthcare Solutions rose 24% yoy like-for-like, mainly driven by record sales in the Protective Films division (€341m, up 27% yoy) and the continued recovery in Fashion Technologies (+20% to €154m) and the Luxury Materials divisions (+31% to €86m). Meanwhile, CHS reported revenue at the top of management's forecast (95 million euros) given the "normalization" of consumer demand for masks and protective gear.
Operating profitability improved across most businesses, with positive volume effects and effective pricing discipline offsetting the impact of rising raw material costs. CPF, CMS and CLM margins were in line with our expectations. Consolidated operating income (€51m) is higher than our estimates (€49m), although this is mainly due to less significant cancellations than expected. At the group's margin, the operating result is in line with our forecasts (6.9%).
Regarding FCF generation, Chargeurs clearly benefits from the capex-light nature of its business, demonstrated by an impressive cash conversion ratio of 1.7x in FY21 (1.6x in FY20). Cash that has been put to good use as the group made several acquisitions in the past year, including the recent addition of Event Communications to bolster its "one-stop-shop" museum, rebranded as "Museum Studio".
The group's outlook for 2022, although still subject to the lingering effects of the pandemic, seems optimistic, with strong volumes expected in CPF and a more marked recovery in the textile business. This should allow it to more than compensate for higher raw material prices and bodes well for a faster than expected margin recovery, particularly for CPF, which we believe is targeting double-digit margins in the second half.
We will update our estimates for FY22, especially for CPF and CMS following this strong release. We are maintaining our positive position on the stock.